Oh What a truck!!
21 November 2008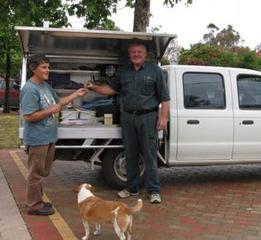 At the 'Thank you Jan' function held at the Pavilion earlier this year it was announced that the money so generously donated by friends, family and grateful clients would be spent on a custom 'fit out' on the back of the new truck Jan was planning to purchase. After a few false starts, much planning and discussion this project has finally been realised.
On the afternoon of Wednesday 19th November an official
handover and photo shoot took place so the community could be informed as to how their donations had been spent.
Jan tells us that people do not recognise her in the new vehicle, so next time you see her out and about, please give her a wave.
A huge thank you to Andy and Richard Fulton for their wonderful craftsmanship in putting together such a work of art that we hope will meet Jan's needs for her Veterinary Practice.
Thank you also to Peter Foster of Murrumbateman Auto Electrics for assisting with the magnificent lighting and refrigeration set-up.
In addition to the truck fit-out, it was decided to go one step further and replace the old hitching rail opposite the garage with a smart new one as a testament to Jan's extraordinary service to the local community and the surrounding district.
(See next story)
---