Update on Storm Water Drainage and Laneway Erosion in Hall village
12 March 2022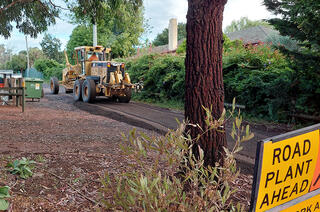 It is very positive to see work to fill and grade some of the Hall village lanes. Cord Civil began work with Bootmakers Lane then continued in Cricketers Lane, One Tree Lane and finally Saddlers Lane.
The crew chief driving the grader said that the work "has been commissioned at the top level to get this done". Not surprisingly, he also said that no matter what they do, the basic issue that has to be dealt with is the storm water drainage otherwise the storm water flooding will continue.
It seems that the crew has been very open to talking with residents beside the lanes, listening to residents' concerns and, where possible, shaping the fill for maximum protection of the adjacent properties.
However, fixing the erosion in the laneways is only immediate first aid. As the crew chief said, the fundamental requirement is to have adequate residential storm water drainage throughout the village and the Progress Association will keep the focus on the storm water drainage and continue to pressure the ACT government to get the action that we need.
---
« Rev Peter Malone appointed as Priest in Charge of St Michael's and All Angels Anglican Church in Hall