Rev Peter Malone appointed as Priest in Charge of St Michael's and All Angels Anglican Church in Hall
11 March 2022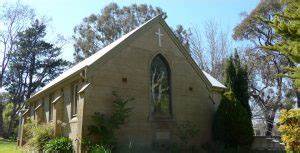 On 19 February, Rev Peter Malone was inducted into the role of Priest in Charge of the combined Anglican parish of St Barnabas Charnwood and St Michael and All Angels in Hall.
Peter and his wife Kerry grew up in Perth WA. They have been married for 31 years and have two children and their partners. In 1996 the family moved to Canberra, joining the St Mary In the Valley Anglican congregation in Calwell and then in late 2006 ventured out to Majors Creek, where Peter was part of the Braidwood parish.
After a 30year career within the trade union movement in 2012, Peter was ordained as a Deacon in February 2014. In 2015, Peter became a School Chaplain at Hawker College, an Anglicare Chaplain and a Deacon at Christ Church Hawker and St David's Red Hill.
Peter was ordination as a Priest in February 2018 at St Paul's, Manuka, after which he was engaged as Anglicare Chaplain for its two Retirement Villages in Canberra and as Assistant Priest at St David's in Red Hill. In April 2021, Peter joined Charnwood Parish as Assistant Priest and recently accepted the appointment as Priest in Charge for St Barnabas, Charnwood and St Michael and All Angels, Hall.
Peter is very excited to have joined the team at "Mike and Barneys" and looks forward to building strong connections within the Hall and Charnwood communities. He also loves a good coffee so if you're up for a coffee catchup give him a call on 0429 350 207.
---