ACT Minister Chris Steel Refuses Request for Safer Speed on Barton Highway
30 March 2022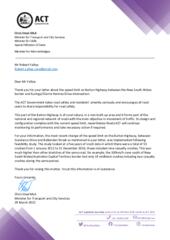 At its December meeting, the Progress Association Committee received a request from Hall and Wallaroo residents to petition the ACT government to extend the 80kph speed limit on the Barton Highway from the Clarrie Hermes Drive intersection to the NSW border.
On 15 December, the Progress Association President wrote to Minister Chris Steel to raise serious road safety concerns over the Barton Highway speed limit between the NSW border and Kuringa/ Clarrie Hermes Drive intersection. In this section of the Barton Highway, the intersections of Gladstone Street and Wallaroo Road are particularly dangerous as they are largely "blind" with extremely limited line of sight to oncoming traffic generally travelling in excess of 100 kph. The northern intersection of Victoria Street is similarly "blind" to traffic travelling south.
The Progress Association requested that the Barton Highway speed limit be reduced to 80 kph between the NSW border and Kuringa/ Clarrie Hermes Drive intersection.
On 29 March, Minister Steel responded to the request advising that this part of the Barton Highway is of rural nature, in a non-built-up area and it forms part of the national and regional network of roads with the main objective in movement of traffic. Its design and configuration complies with the current speed limit, nevertheless Roads ACT will continue monitoring its performance and take necessary action if required.
The Minister further advised that the most recent change of the speed limit on the Barton Highway, between Gundaroo Drive and Bellenden Street was implemented following feasibility study. The study looked at a five years of crash data in which there were a total of 53 crashes from 1 January 2012 to 31 December 2016, these included nine casualty crashes. This was much higher than other stretches of the same road, for example, the 100km/h zone south of New South Wales/ Australian Capital Territory border had only 19 midblock crashes including two casualty crashes during the same period.
The Progress Association Committee will consider further advocacy with the ACT government at the upcoming Committee meeting.
In the meantime, if you have any information that may be useful in developing the case for additional action, please email it to the Progress Association at .
---
« Update on Storm Water Drainage and Laneway Erosion in Hall village