Transport Canberra and City Services Reinstating Bollards on Gladstone Street
7 July 2021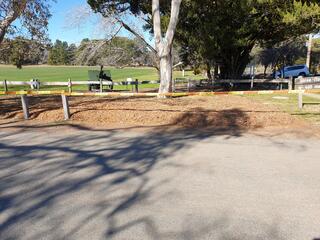 Transport Canberra and City Services has expressed concern about parking in an area of broken bollards on Gladstone Street outside of the War Memorial in Hall. Parking in this location presents a significant danger to the trees by compacting soil and damaging the root systems, There are also safety concerns over the use of the area on Victoria Street as a drop-off stopping area for students to cross the road to catch school buses.
TCCS have started work to reinstate the bollards that were previously broken on Gladstone Street and establish a think layer of mulch to provide further protection to tree roots.
TCCS are also considering appropriate action to limit the use of the area outside the War Memorial on Victoria Street as a drop-off. This may include establishing some form of natural barriers such as large rocks to prevent vehicles stopping in this location.
Customers and staff of cafes and other businesses in this area are reminded of the availability of ample parking in the car park on Gladstone Street opposite Merchants Lane.
Parents and carers of students catching school buses are recommended to use the Gladstone Street car park that provides a safe drop-off that does not require students to cross Victoria Street while multiple buses and other vehicles are travelling at this most busy morning period.
---