MLA Leanne Castley Visits Hall
21 June 2021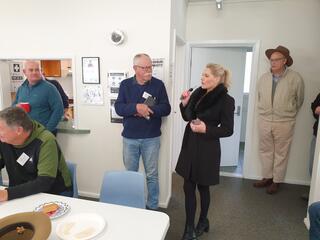 On Thursday 17 June, MLA for Yerrabi, Leanne Castley, visited Hall village on the invitation of the Village of Hall and District Progress Association. Leanne was accompanied by Felicity from her office. They were met by Progress Association President Peter Toet, Vice-President Olga Minion and Robert Yallop.
Leanne and Felicity spent some time in the Hall School Museum and Heritage Centre, including the original Hall School building, and dropped by the Men's Shed morning tea where Leanne responded to questions about the Parkwood green waste site closure.
In her role as opposition spokesperson for small business, Leanne then met with Sean O'Connor as representative of the Hall Traders' group where the conversation focused on the challenges of small business and retail traders in the village.
This visit by Leanne follows her attendance at "Brass in the Grass" last March and her assistance in follow-up of repairs to paving in Victoria Street in May.
---