NSW Government has approved rezoning of Parkwood
21 July 2020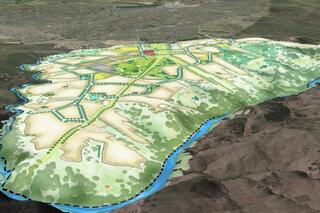 The NSW Government has approved rezoning of the Parkwood area of the cross-border development of Ginninderry between the ACT and NSW. This was fast-tracked by the NSW government as part of its COVID-19 stimulus measures.
Parkwood is the NSW component of Riverview Developments' proposed Ginninderry cross-border development. The project will eventually comprise 5,000 dwellings and house 13,000 residents.
Yass Valley Shire Council had sought the rezoning after backing the proposal last October.
The NSW and ACT governments and the Yass Valley Shire Council have signed a 'Parkwood Protocol' agreement to facilitate the necessary services and infrastructure.
The first development applications for Parkwood are expected to be submitted in the next couple of months and preliminary works such as road upgrades and sealing are expected to commence in early 2021.
Ginninderry in the ACT is being developed and the first suburb, Strathnairn, is set to have about 1,500 dwellings with a mix of larger and compact blocks and dwellings. All up, Ginninderry will have about 6,500 homes.
The Parkwood development has been particularly controversial due to concerns over the environmental values and indigenous heritage of the area, especially Ginninderra Falls and the Murrumbidgee corridor.
leptracking.planning.nsw.gov.au/proposaldetails.php?rid=5724
www.mycommunitydirectory.com.au/Australian_Capital_Territory/Canberra/Environment___Conservation/Environmental_Action___Conservation_/63906/194773/Ginninderra_Falls_Association
---
« Urgent Covid-19 Alert for Visitors to Batemans Bay Soldiers' Club