Hall Final Check Point for ACT Residents returning from Victoria
13 August 2020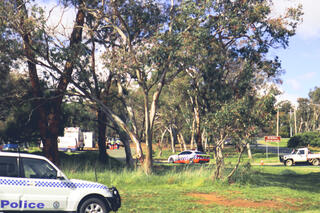 Following 6 days of negotiation by the ACT government, the NSW government finally allowed ACT residents to cross from Wodonga and travel by road to the ACT.
About 100 Canberrans have been stuck in Wodonga since Friday 7 August after a sudden change in border rules applying strict coronavirus restrictions stopped them driving to the ACT through NSW.
The NSW rules allowing travel from Wodonga to Canberra apply for only 4 days from 13 to 16 August and require travel between 9:00am to 3:00pm, have sufficient fuel for the whole journey, only allow one rest stop near Gundagai, and have a valid permit to enter the ACT.
Travellers were met by NSW Police and ACT Health. ACT Health provided information to those arriving on mandatory quarantine for 14 days and provided each with a box of food items to enable immediate quarantine.
---