CBR100 - in the pits at Hall!
21 March 2015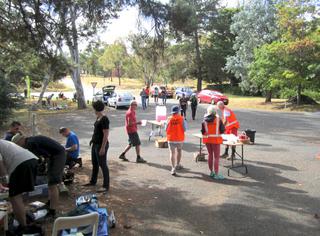 Hall provided a half way pit stop for runners and walkers participating in the inaugural CBR100 challenge. The parking area outside the school in Palmer Street was like a popular picnic spot on Saturday, as first the runners, and then the teams of walkers, came through from Mulligans Flat.
Of a total entry of around 1000, some 150 opted for the 'full monty' of 100 kilometres - and it was only these folk who came though Hall, just before their half way point. A well managed 'comfort station' offered fruit, hot cross buns, water, and more, but for many participants, friends and family were on hand with provisions as well. Quite a bit of 'foot therapy' was taking place also......
Canberra's inaugural CBR 100 Challenge took place on March 21–22 2015. Teams of three tackled a 100km, 50km or 25km walk along our stunning new Centenary Trail. For those who like a more challenge, there was a 100km, 50km and 25km run for solo competitors. Collectively, entrants in the CBR 100 Challenge covered over 40,000km.
The route took participants along Canberra's Centenary Trail from Lake Burley Griffin, up Mt Ainslie, across to Majura and out to Canberra's northern border. From there they travelled south through Hall and down to Black Mountain before cutting across to Red Hill. The final stretch took them alongside Parliament House on a sneakily hidden single track.
There is to be another long distance event on the Trail, passing through Hall, in a few weeks time. The 'ANZAC Ultra 2015' covering 435 kilometres will take place Jul 6 -12th.
[Our photo is from outside the school, looking up Palmer Street, with some walkers just coming into the check-point]
---