New faces at the shop
16 March 2015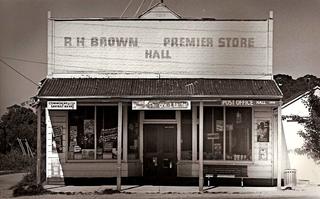 Hall Premier Store will shortly be under new management. From the 1st April Jenny Berron and Jessica Smith (mother and daughter) will be the new proprietors. Jenny and Jessica are really looking forward to being part of this close community once again.
The Shop will be trading as 'Daughters@Hall' - a very appropriate name for Jessica and Jenny's new venture, as their family history in the district goes way back. Great Great Great Great Grandmother Jane Rolfe (nee Riding) settled in district of Hall in the early 1800's. Great Great Grandmother Elizabeth Rochford (nee Rolfe), settled at 'Forrest View', Hall, 1882 - the year that the village of Hall was proclaimed.
Great Grandmother Catherine Rule (nee Rochford), born at 'Forest View' in 1887, married local man Arthur Rule from 'Allwood', on the Wallaroo Road. The late Greg Rule was Arthur's son.
Grandma Marie O'Connor (nee Rule) from the Hall district, and her husband Gus O'Connor went into business with his son, Brian. They worked together for many years at the Hall Service Station.
Brian O'Connor married Anne in1961, and their first home was at 'Sunnyside', along Gladstone Street in Hall. They bought their business Hall Service Station in 1970 and moved to 3 Palmer Street, Hall ('Kinlyside') in 1980 with their children - living, working and supporting the community. After some time living away from Hall they are now moving back to Victoria Street.
Jenny has also enjoyed being part of the Hall community, having moved to Hall in 1980 with the rest of the O'Connor family. Then in 1990 she moved to a house in Loftus Street Hall, which became the first home for two of her three children. Jessica was one of them. Born in 1992, Jess went to Hall Primary from Preschool right through to Year 6 and has some great memories of the village. Jessica - of 'Daughters@Hall' - is the seventh generation of her family living and working in Hall.
Over the next few months the Premier store will review the stock and client requests to evaluate the needs of Hall and district people. If you have any requests you are warmly invited to come in and see Jenny or Jessica.
The opening hours for the shop from 1st April will be 6:30am- 6:30pm, Monday to Saturday, and 8am – 5pm Sunday. Note that the shop will be closed on Good Friday.
Community members will be delighted to know that when Gavin and Trudy move on, the shop will remain in the hands of well known locals with a real interest in the local community. Our thanks to the Mansfields - for taking care of our shop, and for their many generous contributions to Hall community activities. We offer a very warm welcome to Jenny and Jessica and wish them every success!
---