Pack up your troubles!
23 March 2015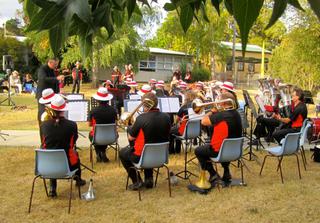 Band Director Viv Martin showed his versatility at the Twilight Concert by leading the singing of a World War I medley. The theme of the concert, and the singing, were intended as part of the on-going commemoration of 'war to end all wars' - and as a reminder that the Hall School Museum will be opening its 'ANZAC' exhibition on 11th April.
The concert has raised the brilliant total of $925 for Museum funds, due to the generosity of those attending. Many thanks to you all!
A fine audience - including a large number of 'hardy perennials' - a wide variety of brass, and the charming voice of Rebbekah Sawkins. Victoria Street Brass got proceedings under way, and were followed by a high quality brass quintet. After a short interval Viv Martin brought the Canberra Brass to the stand for some of the very best of brass, including their backing for two fine solos from Rebekkah.
Ace local MC David Kilby embellished all of this with characteristic wit and wisdom - including some very informative yarns about some of the songs on offer, and their composers. As a local bloke and good friend of the school museum David seemed as charmed as the rest of us by the relaxed, mellow atmosphere - turning cool and shadowed by music's end - around 7.00 pm.
The Pre-School Parents did good business with their sausage sizzle and drinks trailer, complemented this year by a commercial 'coffee cart' - a measure of the increasing sophistication of the event, no doubt. Friends of the Museum were out in force, selling raffle tickets and shaking collection buckets. They were on hand from 3.30 pm to show quite a number of the early-comers around the museum and its associated collections.
In adding his thanks to Canberra Brass for another wonderful Twilight Concert, Honorary Curator of the Museum Phil Robson commented: "It has been another highly successful concert, and very valuable in the support it has generated for the work of the Museum. The audience involvement in singing along with the World War one songs was a great addition to the program. Our sincere thanks to major sponsors Barnett and Lilley, and to Homeleigh Grove for provision of a fine raffle prize of olive products".
Our photo shows Band Director Viv Martin with the baton directing Canberra Brass.
---