Chief Minister launches the Trail
28 October 2013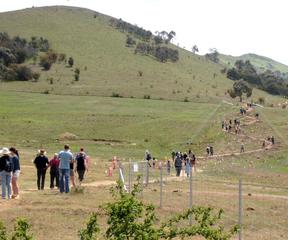 Chief Minister Katy Gallagher, helped by a gang of young children, cut the ribbon to open the Centenary Trail on Sunday 27th October. In front of plenty of witnesses the Chief Minister committed herself to walking one section a month for the next seven months, to complete the Trail. A big crowd of well over 100 was on hand for the occasion, and most of them set off later to 'try the Trail'. The word is that the walk to the lookout on One Tree Hill will take you 50 minutes or so.
'Try the Trail' Day was based at the school, where there was free fruit and water, a Rotary BBQ, tea coffee and cakes, a complimentary map of the Trail and 'passport' for recording the sections walked. Music was added to the occasion, before and after the Launch, by 'Sparrow Folk', and then by 'Andrew and Mahesh'. Many walkers took the opportunity to visit the Hall School Museum and associated exhibitions.
Most of the Trail uses existing pathways. The section northwards from Hall is the longest newly constructed part of the Trail - and one of the most scenically attractive. The Trail will go from the Hall reservoirs up onto One Tree Hill, following the border round to the Mulligan's Flat Nature Reserve.
The Trail is a Canberra Centenary 'legacy' investment. Costing some $3 million, it will be promoted as Canberra's prime outdoor recreation experience for visitors and locals. This presents great opportunities for Hall and district - beginning with the
village's 'retail' businesses.
Our photo [courtesy Bob Richardson] shows walkers setting off on the Trail after the Launch.
---