Local garden treat
30 September 2013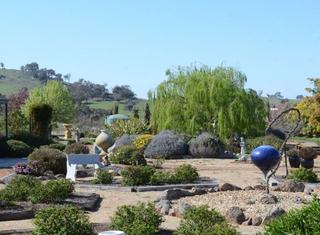 Open Gardens Australia have a fine Hall district garden on their Spring program and visitors will also be supporting some great causes.
Nestled in the hills of Wallaroo, with the beautiful Brindabellas as a backdrop, this lovely young garden was created with "love and intuition", and plenty of hard work, by owners Peter Fletcher and Barbara Baikie.
"Peter started putting rocks from the house excavation together to build the first garden beds. There was no real master plan, but it has grown in stages with a number of distinct rooms or areas enhanced by the natural environment and art," says Barbara.
The garden is an eclectic mix of natives, ornamental trees, shrubs, annuals, perennials, bulbs and roses. There is also a secret garden surrounded by a bottlebrush hedge – and hiding inside is an antique fountain surrounded by flowers.
"We see our garden as an adventure that is full of surprises. One of our favourite features is the dance floor on top of the water tank surrounded by bottlebrush, with the music speakers hidden in two rocks!" says Peter.
There is also a pond, a dry creek bed with a bridge, a gazebo, a reflection pool, and garden beds tumbling with colourful pansies, lavender and roses. Peter is passionate about restoring the land to a place of beauty and thereby creating an important and lasting legacy – and, to that end, he's planted more than 6000 trees in seven years. Two grants from Greening Australia have helped develop bird corridors and riparian planting to control erosion gullies.
"We are delighted to be able to share our garden with the public, as there is a lot a pleasure in it for us. It's also a great way to support organisations such as the local bush fire
brigade and Canberra Refugee Support," he says.
A sculpture exhibition will coincide with the opening.
The garden is at 88 Rochford Road, Hall. It will be open on the weekend of 26/27th October from 10am to 4.30pm. Admission is $7 (under 18 free).
---