St Michaels sunny Fete
22 September 2013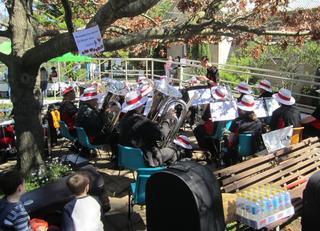 The Band, not the bells, rang our across the village to mark the start of the annual Fete at St Michaels and All Angels. The Good Lord provided a fine sunny day and the result was a large and
lively gathering.
It was especially good to have 'Victoria Brass' performing on Victoria Street, and we hope to keep seeing them here regularly. With music in their ears, Fete-goers checked through boxes of, books, tables of cakes, plants and craft items, while some settled for a seat and strawberries and cream or Devonshire teas, pondering their chances of winning the raffle.
Some ventured into the little church, sixty five years old this year. The local Anglican congregation worked for 20 years to establish the church, which was finally built and dedicated in 1948 in the presence of Governor-General McKell. While waiting for a church of their own, they held services for a while at Kinlyside Hall. Neil Manton, author of 'St Michaels and All Angels. The history of a village church', was at the gathering, catching up with some old friends from the village where he used to live.
---