Free Bulky Waste Pick up - Hall Village 30 & 31 October
11 September 2013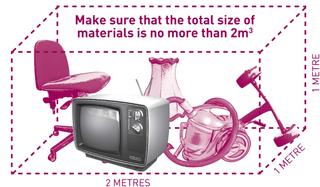 The ACT government is currently conducting a trial of a bulky waste household collection service. Residents may be interested to know that if they are a pensioner or concession card holder they are entitled to one free bulky waste collection under the ACT Government trial.
To be eligible for the service, people will need to be a resident of the ACT and hold one of the following concession cards:
A Current Centrelink Pensioner Concession Card,
An ACTION Gold Card,
A Department of Veterans Affairs Gold Card,
A Seniors MyWay Card (available to everyone over the age of 70).
The Bulky Waste Collection Service will be undertaking pick ups in the Hall Village on October 30 and 31. If you would like to participate in this free service, bookings are essential. Please call the Bulky Waste Pick up Service on 6249 7974 and have your concession card number with you to reserve your spot.
Things to know about the service:
It is a collection of bulky items such as furniture, whitegoods, TV, computers, large electrical appliances, items from the garage such as lawnmowers, tools etc,
There is a maximum amount of 2 cubic metres which can be collected, please note a maximum of 10 pieces can be collected within that limit and nothing can weigh more than 46kg,
The service is not a rubbish removal service, and they will not take away garden waste, household rubbish or building rubble,
Items need to be outside on the day ready for pickup,
The Concession Card will need to be sighted at the time of pick up.
The scheme is sponsored by the ACT Government; for more information call 6249 7974 or visit www.bulkywaste.com.au. Pickups are done on behalf of the ACT government by The Green Shed.
What does The Green Shed do – In addition to the Bulky Waste Collection Service; The Green Shed is contracted by the ACT Government to offer the public an alternative to depositing their unwanted items to landfill. Anyone with goods that are reusable and have a resale value can drop them off at The Green Shed at either The Mugga Lane Resource Management Centre in Symonston or at The Flemington Road Resource Management Centre in Mitchell. They sell a large variety of goods at bargain prices and have staff that can assist you.
---