Kinlyside no more
10 September 2013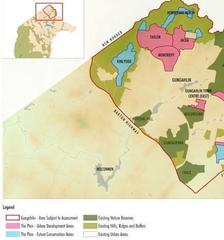 The suburb of 'Kinlyside' was gazetted in October 1991, and the Halls Creek valley has been carefully watched by Hall residents for the past twenty years. Now, as a result of a decision by (then) Commonwealth Environment Minister Tony Burke, Kinlyside is now designated a Nature Reserve, and is entirely surrounded by land designated 'Hills, ridges and buffers'. There will be no suburban development.
Ten years ago, after protracted consultation and lobbying, the Hall community, through the Progress Association won a very significant struggle to have a 'buffer zone' around the village recognised, and rule out any direct road connection into Gungahlin. This was enshrined in the Hall Master Plan (May 2002). The provisions of the Master Plan and the Heritage Place Registration (August 2001) of the village were integrated into a single instrument to ensure consistency between these two important documents. The Master Plan has since been superceded by the Hall Precinct Code.
While the buffer zone still extends right around the village, the major concern of residents was of course the north eastern flank, where housing would have come up to the back of the Showground, and very close to Hall Street.
This result has come about as a result of trade-offs that secure completion of the urban development of Gungahlin to a population of around 100,000 - now set out in the 'Gungahlin Strategic Assessment Biodiversity Plan'. Under this Plan a 'biodiversity offsets package' will place an additional 781 hectares of land supporting threatened species and communities into protected areas within the district. This will include the creation of Kinlyside Nature Reserve (201 hectares), eliminating any likelihood of urban development for the Kinlyside area. This action will avoid impacts to Kinlyside's box gum woodland and habitat for golden sun moth and pink-tailed worm-lizard.
Surveys by ecologists and the Canberra Ornithologist Group have identified Kinlyside's key habitat for threatened birds and high diversity of plant species that tend to occur only in sites in good condition. The ACT Conservation Council said this is largely due to leaseholder John Starr and his family's conservation farm management.
Many residents will be well aware that the the suburb is named after George Kendall Kinlyside, member of well known pioneer family in the Ginninderra-Hall area. George followed in his father's footsteps as wheelwright, coachbuilder and blacksmith at Hall. In 1907 he built a hall which served the Hall community for many years (now Hall Antiques), was active in local affairs and joint secretary of the Hall Progress Association when established in 1906. We may never know whether he would have preferred to have a suburb or a Nature Reserve named after him!
---