Ultra-marathoner runs into Hall
25 March 2011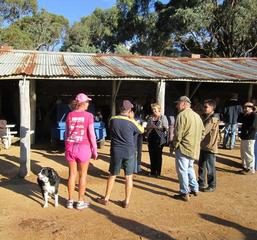 Deborah de Williams is a woman with a mission. She is running right round Australia to raise money for the Breast Cancer Foundation - with Maggie her dog, and her support crew - her parents and partner.
The Rotary Club of Hall organised a classic country welcome for when Deborah arrived in Hall around 5.30pm - a sausage sizzle at the barbeque sheds on the Showground. President Vic Gibbons welcomed Deborah on behalf of the community and congratulated her on her fantastic achievement. After a snag or two Deborah talked to the gathering about her motivation, and some of the experiences enjoyed along the way.
So far Deborah and Maggie have run over 23,000 kilometres and are still going strong. She has raised around $200,000 of a target of $300,000. Vic Gibbons advises that the Rotary sausage sizzle and collection raised $475 to add to the tally.
On the 4th Oct 2010 Deborah and Maggie reached GPS co-ordinates S 12 52.139 E 131 08. 488 at the corner of Crater Lake Rd and the Stuart Hwy where Deborah had ended her run last year. At this point Deborah become the 1st female and Maggie the 1st dog to run the entire distance around Australia. Deborah is now heading to Melbourne where she will become the first person to run and walk continuously around Australia. The rules for the continuious run are: you must travel the whole distance on foot - under no circumstances can a car be used; you must run everyday, no days off; the minimum kilometres that need to be covered is 20kms a day and each leg must commence at the exact point where the last finshed off.
Deborah and Maggie have decided to dedicate days that they run to people who have lost there battle with breast cancer. If you would like a day dedicated to your loved one please email Deborah to find out details of how this can be done.
You can learn more from Deborah's own website
Our photo shows Maggie, Deborah, and Vic Gibbons.
---