Thank you Elaine
28 March 2011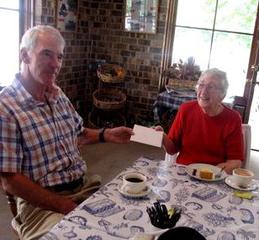 Elaine Leckey was thanked for her eight years as Treasurer of the Progress Association at a special afternoon tea gathering at the Gumnut Coffee shop. Current committee members gathered to present Elaine with a Gift Voucher, and to acknowledge the contribution she made over many years,
President Alastair Crombie noted how important it was for small voluntary organisations to have such steady and reliable people in the key administrative roles, making sure that the wheels keep turning. He noted how valuable it was to have had Elaine looking after the books, banking money, arranging the annual audit and financial reporting, and so, without having to worry about these jobs being well done, and on time.
Phil Robson, the Association's Heritage Officer, has stepped into the breach for this year, but the Association is keen to find someone else to take on the Treasurer's job from August this year.
[Our picture shows Alastair Crombie and Elaine at the Gumnut. Photo: Bob Richardson]
---