National Sheepdog Trials
6 March 2011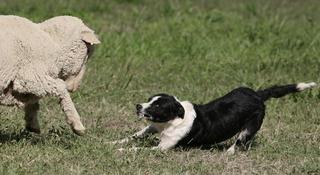 Entries for the National Sheepdog Trials have now closed with 277 entries being received from all over Australia.
The Trials will be held at the Hall showground between Tuesday 15th March and Sunday 20th March 2011.
The annual event originated in Canberra in 1942, with the first one held to raise money for Legacy during the Second World War.
The Trial Course is laid out with a race, bridge and pen representing the obstacles the sheep dog encounters in its daily work. Fifteen minutes are allowed for the dog, under instruction from the handler, to move the sheep through the course. Each competitor starts the trial with 100 points, with points deducted for work errors or ineffective work by the dog and the worker or obstacles not negotiated. The winner is the team with the most points in each event category.
One of the organizers, Phil Morris, says the dog trials not only demonstrate the skills and experience of the dog and the handler and the cunning of the sheep, but also showcase teamwork. Or lack of it!
"Like humans, dogs can be temperamental and can have a mind of their own", he said.
"One competitor recalls the time she had the entire crowd laughing at her and her dog. She sent the dog around the sheep and the dog did as she was asked, but unfortunately at the same pace as her - a walk. But things improved. The next trial they entered, the pair recorded the fastest time.
"Spectators are more than welcome to come along to witness this great event – the skill, the laughter, the tears, the teamwork and the champions", Mr. Morris said.
The Trials run from 8.00 AM to 5.00 PM daily with the Maiden trials on Tuesday and Wednesday and the trials for Improver and Open Dogs from Thursday to Saturday. Finals of the Improver and Open trials are run on Sunday afternoon. The presentation is scheduled for 4pm.
There is no gate fee from Tuesday to Friday. The gate fee is $5 for adults, $3 for seniors, with children free, on the Saturday and Sunday. Any money raised goes towards covering the costs of hosting the event.
For further information please contact:
President, Peter Welch on 0416-090-195 or at
or go to the National Sheepdog Trials Association website.
---