Local schoolgirl's project published
22 December 2010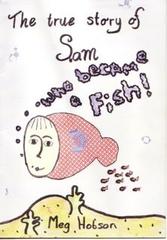 Available at the Hall General Store is a children's book by first time local author Meg Hobson. Meg wrote and illustrated "The True Story of Sam Who Became A Fish!" for a school project when she was nine. Everyone who saw the book said it should be published. The publisher said it was almost impossible for adult authors to achieve the style and feel that Meg had managed naturally. So, after two years waiting, it is now available through Angus and Robertson and online bookstores as well as being promoted in Australia, the UK and USA.
The story follows Sam through his magical transformation, the comical situations he experiences as a boy/fish, and how he solves the problem to remain with his loved ones. The feedback is kids just love its offbeat story and images.
Meg is really proud that her book is going to be in the Australian National Library. The release of the book has capped a great year for Meg who, her proud parents revealed, also received awards at Radford College for Choir, Art, the prestigious Year 6 Girl Leadership award, and role of Little Red Riding Hood in next year's school musical, Into The Woods.
The True Story of Sam Who Became A Fish sells at Hall General Store for $17. And if you ask nicely, Meg has been developing her signature and will sign your copy. Will it be a collectable one day?
---