Parkwood Chapel Open Day
16 December 2010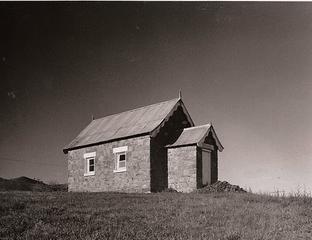 After the three hundred man hours which were worked by Southwell Family Society volunteers on the chapel, the committee was very pleased to welcome members and their families to the open day on 6 November. The chapel has been transformed from having craters in the walls to now having a crack-free interior and exterior. The walls have been painted a colour very close to their original hue and the high fascias have been sanded and painted by a local contractor.
There were eighty six names in our visitors book with people coming from Townsville QLD, Maffra VIC, Taree, Gosford, Wagga Wagga, Newcastle, Sydney, Wollongong, Grenfell, Crookwell, Goulburn and of course Canberra and district. Some of those who came were locals who are not connected to the family, but who are interested in the local history.
The committee provided tables and chairs and portable toilets for guests' use. The weather was pretty cold and miserable but there were no complaints, as the forecasted and threatening rain did not eventuate until later that evening. Some people just had a look around and went on to other venues but many stayed for most of the day.
Photos of Thomas and Mary Southwell and John and Lucy Southwell were on display in the chapel for the day. Other family photos were also shown.
Flowers decorated the chapel and a small table was in place as an altar and was covered by a cloth depicting the letter "S" and crosses. The cloth was especially crotcheted for the day by our committee member Eva Yager. Thomas Southwell's Bible and a statue of Thomas and Mary were lent to us for the day and these were also on the table.
Our display also included some original bricks and nails from the "Parkwood" home, a family tree scroll for Thomas's two families, a wedding dress and nightie, and timber from the old sycamore tree.
For those who missed our earlier story, Thomas Southwell arrived in Australia in 1838 and came to the Ginninderra Creek area in 1840. He was a staunch Wesleyan and began holding prayer meetings and church services in his home. When his home became too small he built a slab church which he replaced in 1880 with a granite building.
The granite chapel was built without foundations as was done in those days. The recent drought dried the clay sub-soil and caused the walls to move and crack. Earlier this year the Southwell Family Society repaired and underpinned the walls and painted the chapel, both inside and out. This was done after advice from the heritage adviser from the Yass Valley Council.
[with thanks to Jim and Pam Grace, Southwell Family Society]
---