Polocrosse Juniors off to South Africa
3 June 2010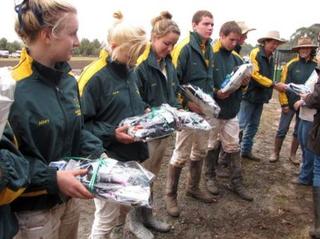 At the Hall Club's Polocrosse Carnival on the weekend of 29th - 30th May, the Polocrosse Association of Australia announced the Australian Under 16 Junior Polocrosse team and officials to compete in South Africa in July this year.
Those selected are:
Sarah Gilbert
Grace Halstead
Hilary Beech
Farann Mathie
James Grills
Matthew Davidson
Jack Cooper
Mitchell Whiteley
Coach: Arch Anderson
Manager: Toni Davidge
Team members were presented with gifts by PAA Director Odette Neumann,during a lull in the tournament at Hall.
Sadly, the Carnival ran into the wettest weekend most of us can remember, with competition finishing early as a result.
Congratulations to all the youngsters off to South Africa - and best wishes!
---