Kynefin Bombolini Donuts Featured in Canberra Times World Donut Day
2 June 2023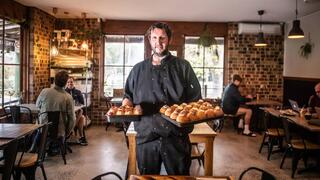 Today, Friday 2 June, is World Donut Day and the Canberra Times has featured the Bombolini donuts of Kynefin Cafe in Hall.
The Canberra Times reports that Kynefin's Bombolini donuts are filled with luxurious custards in several flavours, such as vanilla, pistachio, passionfruit, chocolate as well as jam-filled Bombolinis bursting with berries.
World Doughnut Day has been celebrated since 1938, starting off as a fundraiser for The Salvation Army in Chicago during the Great Depression. Even now many doughnut drives raise money for charities, so you can eat all you like for a good cause.
Geoff Whittall has owned Kynefin for five years, after moving to Australia nine years ago from the United Kingdom.
Geoff trained under a Spanish chef who taught him all about the Italian bombolini and about seven years ago began making them to sell at markets around Canberra such as The Forage, Handmade Markets, and the Capital Region Farmers Market. He says the secret is the long fermentation of the dough, which keeps it light.
"And there's lots of flavour without it being too sweet."
Several reviews have suggested Kynefin's bombolini might be the best doughnuts in Australia.
Hall Village boasts 3 cafes - Kynefin, Daughters@Hall and Sugar Plum - as well as 1882 Bar and Grill.
---
« Wallaroo Solar Installation - Submissions Can be Lodged Until 20 June