Wallaroo Solar Installation - Submissions Can be Lodged Until 20 June
25 May 2023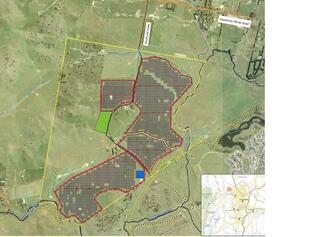 On Monday 22 May, Wallaroo Solar Installation received confirmation from the NSW Department of Planning & Environment (DPE) that the project will be on exhibition at www.planningportal.nsw.gov.au/major-projects/projects/wallaroo-solar-farm for 28 days from Wednesday, May 24th until Tuesday, June 20th.
During this period, the Environmental Impact Statement for the project will be available for review on the DEP website. Community members also have the opportunity to lodge a submission to DPE about the project at the project website above. Further information from DPE on community participation can be found at www.planningportal.nsw.gov.au/major-projects/community/community-participation-assessment
The proposed Wallaroo Solar Installation, located at 246-248 Southwell Road in Wallaroo NSW, comprises 180,000 Solar Panels and battery energy storage. Approximately 100MW (AC) of renewable energy would be generated and supplied directly to the national electricity grid. The Wallaroo Solar Installation would provide enough clean, renewable energy for approximately 48,000 NSW and ACT homes.
Wallaroo Solar Installation will be running two further community consultation sessions to discuss the project and answer any questions the community may have.
The details of the consultation days are as follows;
Day 1: Friday 16 June 2023
Time: 3pm-7pm
Location:
Holt Neighbourhood Hall,
80 Beaurepaire Cres, Holt
Day 2: Saturday 17 June 2023
Time: 9am-3pm
Location:
Hall Community Cottage, Palmer Street, Hall
For those unable to attend the community consultation days, Ben cranston invites you to contact him directly to orgainse a time to meet and discuss the project further if you have any questions or comments.
Ben Cranston https://
---