Thank You to Volunteers at the Hall Reserve Work Day
20 November 2022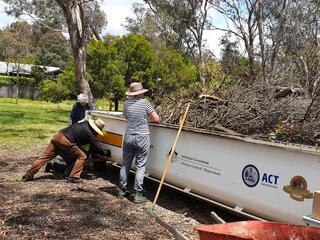 Following the Work Day held in June that was an enormous success in removing weeds and dead shrubs from the Reserve, the Hall Progress Association arranged another Work Day on 20 November to remove the remaining green waste with some recent broken branches and clear/ mow/ whipper-snip the areas where the government mowers were unable to reach. Jonathan Palmer organised the Bush Fire Skip to remove the green waste.
Thirteen volunteers were treated to generally fine weather, although were caught by a very brief shower. Thank you to Dennis Greenwood, Jo Hall, Jim Kershaw, Serah Melhuish, Darryl Minion, Olga Minion, Margaret Morris, Tony Morris, Jonathan Palmer, Bill Pearson, Sonny Pirotta, Bob Richardson, Aaron Whittaker and Robert Yallop for the splendid work.
Special thanks also to Dennis Greenwood, Jonathan Palmer and Bill Pearson for providing wonderful pizzas from the community oven for the hungry volunteers.
In the coming weeks, when we have approval from the ACT government, new shrubs will be planted in five identified clumps on the Reserve.
Contact Aaron Whittaker at or Jonathan Palmer at
---