Hall Christmas Fair Huge Success
19 November 2022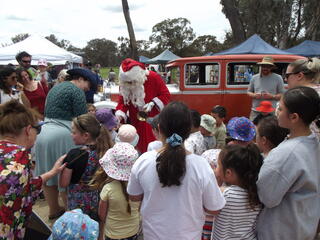 The Christmas Fair held today in Hall Village was a huge success with hundreds of visitors coming to find a special present and experience the unique environment and attractions of Hall as a heritage village.
In addition to stalls selling every manner of item from artwork to zesty spices and everything in between, visitors were able to savour Men's Shed pizza, Hall Heritage Centre jams and cakes, St Michael's Church slices and Pony Club sausages as well as crepes, doughnuts, asian food and the always welcome coffee.
The Hall Axemen and Women were demonstrating their skills as members of the fastest growing woodchop club in the country while the Hall Collectors' Club displayed some of their classic vehicles showing over 100 years of automotive development.
To the sounds of Canberra Brass (forever to be remembered as the Hall Village Brass Band), Santa arrived to the delight of children who seemed to suddenly materialise in Santa's presence.
Congratulations to Zina Richardson for her organisation of this fantastic event as well as thanks to the volunteers who helped her.
---