'Winarlia' lives!
20 July 2008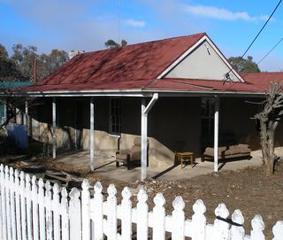 Residents will be delighted to see the resurrection of 'Winarlia', one of our oldest buildings, and a fine example of pise (rammed earth) construction. Congratulations to Shaun O'Connor and his family – his wife Tanya, and their three young children Layla, Austin and Nellie. With three weekends of work already behind him, Shaun plans for them to be moving in by Christmas. His biggest challenge, he says, is the number of people who want to come in and see the building!
'Winarlia' was built in 1901 as the residence of Ebenezer ('Ebb') Brown, his wife Elizabeth, and their children Dorothea, Claude and Ross. The name has been echoed in Gungahlin, where 'Winarlia Lane' (gazetted in 2001) was named after Ebenezer's home. It is nice to know that 100 years later there will again be three young children living at 'Winarlia'! The most recent resident was Jean Southwell MBE, who ran the store for many years and was also the postmistress and a Sunday school teacher. 'Miss Jean' died in 1996, and the house has been unoccupied for the past ten years or so.
Bevis Brown, grandson of Ebenezer, has kindly made available the memoirs of his uncle and aunt, Claude and Mabel Brown, which include fascinating detail about both the original shop, and the construction of 'Winarlia'. Claude was one of the youngsters who grew up at 'Winarlia' a century ago:
"The store at Hall [built in 1888] consisted of a single room like a hall, with a hip roof extending to a skillion at the rear. The walls were lined with shelves, and counters were placed on three sides. The skillions contained the bags of bran, pollard, etc, and boxes of unopened goods. At the rear of the main building were stables made of slabs and sheds for vehicles, which included a cart, a sulky and a buggy. A waggonette was used for carting goods from Queanbeyan.........
.......I understand that for a while, both families lived together in a building not far away from the store. Later a new pise building of four rooms on a block of land to the east of the store and not far distant, was built ['Winarlia']. The soil for the building was carted from where the Hall park is today. The construction of a pise building was reasonably cheap. After the foundations were laid, wide boards, fifteen inches apart, were placed on top of the foundation. Into the cavity soil was rammed tightly. An expert could tell whether the soil was sufficiently damp for consolidation. As each layer was completed, the boards were shifted higher and held together by large bolts. Generally the walls were plastered and painted.
This building of four rooms consisted of a front bedroom where father and mother slept. Adjoining this room was what mother called the 'front room', where any visitors were entertained. It contained a sofa, a few chairs, a centre cane table with a crocheted cover, and photos on the wall. Later we had an organ, on which Dorothea and Ross learned at one time. The two back rooms acted as a kitchen and a spare room. The kitchen was small, but at one end was a large fireplace, where mother did all the cooking. My mother did her own housework, shop work, cooked and looked after us all with loving care. I often wonder at the splendid people who lived, laboured and loved under such difficult conditions"
'Winarlia' is recognized as a building of particular interest in the Heritage listing of Hall, and features in the National Trust brochure – 'A heritage tour of Hall'.
Well done Shaun and Tanya, and best wishes for all the work that lies ahead!
[Extract from the memoirs of Claude and Mabel Brown (written 1978) kindly lent to us by Bevis Brown]
---