Repair to dangerous paving on Victoria Street has been completed
7 May 2021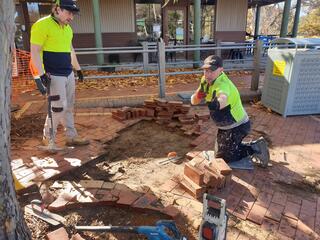 Work has now been completed on major repairs to the extremely unsafe brick paving on both sides of Victoria Street between Gladstone and Loftus Streets.
Although the serious safety hazard of raised and uneven paving was first reported through Access Canberra 25 October 2019, and subsequently followed up on numerous occasions, no action had been taken until last month.
On 16 April, the Committee of the Village of Hall and District Progress Association contacted Chris Steel, Minister for City Services requesting urgent action. Correspondence to the Minister was copied to all five MLAs of Yerrabi electorate. The Minister's office responded immediately advising that the matter had been notified to the responsible area in the ACT government. MLA Leanne Castley also responded to say that she would follow up with the Minister.
The Progress Association Committee was contacted a couple of days later by the responsible ACT government manager and he then visited Hall on 21 April spending almost two hours with a member of the Progress Association Committee inspecting the whole area and committing to action within a couple of weeks.
Just over two weeks since the inspection, work began today to repair broken pavers and level all raised pavers along Victoria Street.
If you have any concerns over safety hazards in Hall, please send an email to or contact Access Canberra at www.accesscanberra.act.gov.au/s/fix-my-street
---