Murals to be Painted in Gladstone Street Park
29 April 2021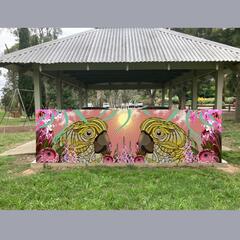 The small group of volunteers (aligned to TCCS, Urban Parks and Places) established to progress the upgrading of the Gladstone Street park have advised that work is due to commence on the weekend of 1 - 2 May, for murals to be painted on the toilet block, bus shelter and barbeques in the Gladstone Street park.
These murals, by a local member of the indigenous community, have been approved by the Indigenous community and ACT government City Presentation.
The pre-school children will be going to the park to watch and help paint the murals.
Everyone is welcome to stop in and have a chat with the artist (Kristie Peters) while she is here.
The artwork is expected to be complete by the end of September 2021 and light works will be carried out in the Hall community park during this time.
The ACT government has written a letter to Hall residents requesting patience while works are being carried out. If you have any questions, please contact Jacob Keed of the ACT government on 0466 795 573.
For further information, you can also contact Hall Park volunteer convenor Graeme Bryce.
You can listen to an interview with Graeme Bryce and Kristie Peters at abcmedia.akamaized.net/radio/local_canberra/audio/202105/abm-2021-05-05-new-hall-mural.mp3
---
« Fooling Around in Flannels - History of Cricket on the Limestone Plains