New Exhibition by Isla Patterson - Hall Countryside and Beyond
1 March 2021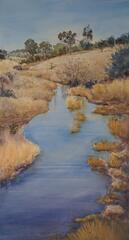 The owners of Capital Wines and Gallery, Bill and Maria Mason and Colin and Kay Andrews, are pleased to announce a new exhibition by local artist, Isla Patterson, entitled Hall Countryside and Beyond.
The exhibition will continue from 18 March to 19 April 2021 with the official opening by David Kilby at 5:30pm on Saturday 20 March. Bookings for the opening are essential and can be made at www.capitalwines.com.au/.
Capital Wines Gallery is open 11:00am to 4.00pm Thursday to Monday.
The Gallery has a new lighting system with lounge style furniture. The Wine Lounge encourages guests to enjoy the works the Gallery has on exhibition in a relaxed setting.
---