Solar Farm Proposed at Wallaroo
19 February 2021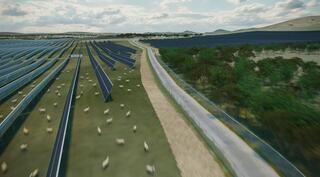 A solar farm is being proposed at Wallaroo on a site between the ACT/ NSW border and Gooromon Ponds Road.
The solar array is proposed to occupy approximately 209 hectares of the 391 hectare site.
A number of studies have already begun which include biodiversity, cultural heritage, visual amenity, noise, traffic, soil and socio-economic reporting. These studies will be progressed as part of an Environmental Impact Statement (EIS) which will be submitted with the planning application and also made available for public access. The preliminary investigation findings are presented in the Scoping Report, which will shortly be on public display at www.planningportal.nsw.gov.au/major-projects.
Feedback can be given to the companies proposing the solar farm - New Energy Development and Univergy International - through a form available at wallaroosolarfarm.com.au/feedback-form/ or to the Yass Valley Council email: or phone 02 6226 1477.
More information on the project is available at wallaroosolarfarm.com.au/
---