Hurry! 50 Extra Free Tickets Available for Brass on the Grass
16 November 2020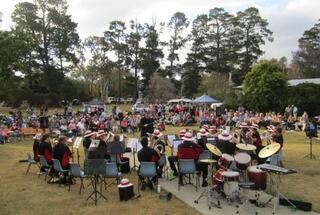 With eased ACT Health restrictions, an extra 50 free tickets are now available for Brass on the Grass on Sunday 29 November at 4:30pm.
After a six month COVID delay the Hall Museum and Heritage Centre are delighted to again be hosting the (twelfth) annual Brass Band Concert with the Canberra Brass - once known as the Hall Village Brass Band. The Band has been out of action for many months also, so a big blow at our fine outdoor venue will be a celebratory return to business for them.
COVID safety is still a top priority. The Concert is free, but will be an all-ticketed event with bookings to be made at www.trybooking.com/BMIDL. This will enable the Museum to collect contact details and remain under the increased limit of 250 people attending.
Don't delay as tickets are being taken fast.
---