Successful Planting Day for Floriade ReImagined in Hall Village
24 May 2020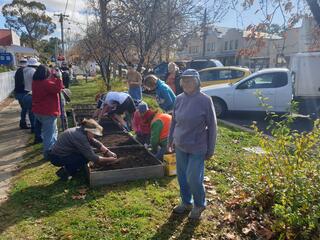 On Sunday 24 May, more than 60 volunteers from the Hall village and district joined together with the Hall Men's Shed to plant 2,000 bulbs and 2,000 annuals in 80 temporary garden beds in preparation for Floriade ReImagined in communities around the ACT.
Special thanks goes to the Hall Volunteer Rural Fire Brigade (Hall RFS) for watering all the freshly planted garden beds on Sunday afternoon.
In addition to the 80 temporary garden beds, the ACT government Floriade team is working with the Village of Hall and District Progress Association to install 15 planted wine barrels and wheelbarrows in Victoria Street for the September/ October Floriade period.
---