Now is the Time to Support local Hall Village and District Businesses
3 May 2020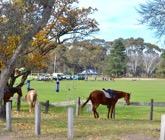 The Hall Village and District postcode of 2618 is reported by both NSW and ACT Health as having no cases of Covid-19.
Nevertheless, many businesses of Hall Village and District are still suffering the multiple affects of drought, bushfire and the restrictions to keep us all safe in the Covid-19 pandemic. We are all aware that the effects have been felt by our cafes and restaurants, by our wineries, by our hairdressers and our beauty services.
Many other businesses have also been affected including our tradespeople and other services.
Whatever your needs, give your support the businesses of our friends and neighbours in Hall Village and District to assist the recovery of our community.
Your can find information on local businesses in the Rural Fringe www.hall.act.au/read/5790/april-rural-fringe-online.html or at www.hall.act.au/business-directory.html
---