Hall Traders Association Widens Its Membership Eligibility
1 April 2020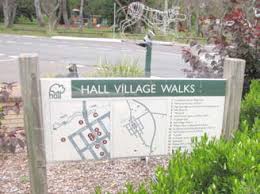 The Hall Traders Association, which was set up in 2018, now has a wider membership focus encompassing businesses in the village as well as those in the surrounding rural area of the 2618 postcode. This is in recognition that shopfront traders have much in common with other businesses both in the village as well as those operating nearby.
The two key interest areas of the group remain:
• marketing and promotion of members' businesses and their activities,
• improving the infrastructure of the village and local area for the benefit of visitors, customers, businesses and residents.
A major activity for the traders group is the annual street party run as a joint venture with the Progress Association (VHDPA). A new look street party is planned this year to be held as an afternoon/ twilight event on Saturday 30 October.
The committee will meet shortly to discuss the possible name change to reflect and encompass the complete business district. The committee is also currently working on social media platforms that
will include links to members websites and business profiles.
In the next few weeks you will notice membership forms at various businesses in Hall and access via our social media once it's up and running. All businesses are encouraged to reach out to the Traders' association as the advantage of strength in numbers and a recognised business group can have major benefits to your business.
Please do not hesitate to contact, Shaun O'Connor, President,
M 0427 363 747 for more information.
Any business in Hall Village and District (2618 Postcode) can also have its information including name, nature of business, contact details and website added to the Hall Village website by contacting or using the contact form on this Hall Village website www.hall.act.au
---