Thank you Jan
5 May 2008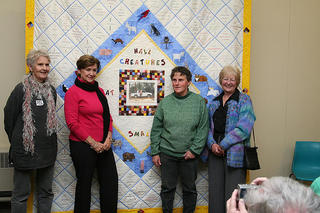 A very large gathering met at the Pavilion last night to say 'thank you' to our very own living treasure – Jan Spate. Jan has had a veterinary practice in Hoskins Street since moving to the village in 1971, and has become a legend for her knowledge, skills and care in attending to sick animals.
Amongst the three hundred or so who attended were folk from Wee Jasper, Yass, Braidwood, Queanbeyan, and all around the Hall district – a wonderful community gathering to celebrate and praise a very special person. Amongst the gathering were many who, as youngsters, spent time 'helping out' at Jan's and learning on the job about animal care.
One of them is Amy Kay, who along with Mick de Britt and Vanessa Jones, spoke to the gathering. Amy, now practicing as a vet, spoke of the inspiration that Jan provided her. Three gifts were presented – a marvellous quilt (see separate story), an 'appreciation book', and funds for a fit-out of Jan's new vehicle.
The appreciation book, beautifully compiled by Janine Yokom, brings together a collection of poems, letters of thanks, anecdotes, photos and other memorabilia. An enduring reminder of the night we all said 'thank you Jan!'
There were also flowers from Sandra Southwell-Stevens, a framed cartoon of a day in the life of Jan from Honey Nelson, and a 'Thank you Jan' iced cake.
Everyone present seemed to have a special memory of Jan's skill, kindness, and care. Alastair Crombie, as MC for the night, read a citation which tried to capture the reasons for this depth of admiration and gratitude:
Jan –
We wish to recognize and celebrate your exceptional contribution to the Hall village and district community over a very long period of time, including:
Your extraordinary devotion to the health and well-being of animals (and their owners!) well beyond the normal call of duty;
Your sustained commitment to, and exceptional care for injured wildlife;
Your loving care and 'mentoring' of a long succession of young people.
For all this, through all the years, we your friends thank you.
It is hoped there will be a special piece about the Jan Spate Quilt in the forthcoming Rural Fringe.
Thanks to unofficial photographer Andrew Purdam, you can view more photos from the gathering.
---