Visit by Pre-schoolers
17 May 2013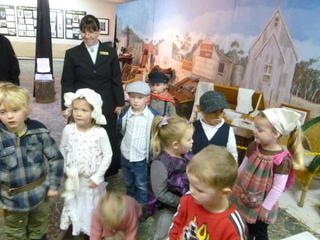 The wonderful children from the Pre-school together with their teachers Cindy and Wendy made a special visit to the Museum this week. They were all dressed in heritage clothes that made them fit right in to the displays at the Museum.
They started the visit with an orderly march into the old Hall School, then sitting at the old desks using slates and slate pencils and being instructed by the Museum's Allen Mawer.
Then on to the 'Hall 1913' display where they were intrigued by all the 'old stuff'. It was great to hear them chirping and asking interesting questions about the various items on display.
Then on to 'Memory Lane display with its big collection of 'nostalgic' old items It was the prams with dolls which the little ladies enjoyed and some of the boys took a turn at wearing the 'Davy Crockett' hat with a real fox tail.
The visit ended at the old 'picture theatre' where the kids sat in the original seats from the Hall Theatre enjoying a Charlie Chaplin film.
The volunteers from the Museum loved having the pre-schoolers visit and enjoy the Museum.
The photo shows Wendy with the children in the 'Hall 1913' display.
There are more photos in the Museum's photo gallery pages.
---