Theft of plaques from Hall Cemetery
27 April 2012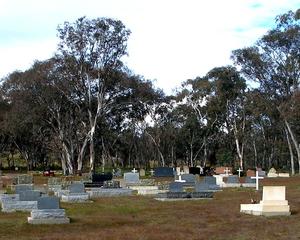 In relation to the recent theft of bronze plaques from Hall Cemetery, Canberra Cemeteries would like to talk to any families that have monuments at Hall Cemetery which may have had bronze plaques attached.
If you have not heard from us please contact Cemeteries staff on 6204 0200 between 8:30 and 4:30 pm on business days.
Police believe the theft occurred between Tuesday, April 10 and Wednesday, April 25 2012.
Police urge anyone who may have witnessed suspicious activity in the cemetery to contact Crime Stoppers on 1800 333 000, or via Crime Stoppers. Information can be provided anonymously.
Hamish Horne, CEO, Canberra Cemeteries
---