Hall remembers
13 November 2011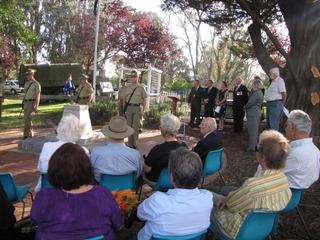 Well over a hundred community members gathered on Remembrance Day for the annual Hall Remembrance Day ceremony. The atmosphere was set for the occasion by piper Jim Davies.
The ceremony was organised, as usual by the Rotary Club of Hall, with President Barbara Baikie and a good number of Club members in attendance. Bill Pearson and Dennis Greenwood did a fine job of organising and managing the ceremony.
Barbara opened proceedings with a welcome, followed by the Armistice Day address by Mr Phil Roberts, and prayers led by local church representatives - Pastor Bernie Rodgers (Wattle Park Uniting Church), Mrs Dimity Manton (St Michael and All Angels) and Michael Brown (St Francis Xavier).
Wreaths were laid by the Rotary Club, the Hall Volunteer Rural Fire Brigade, and the Hall Progress Association, and the flag was raised by Matthew Dragh.
The Army again gave much appreciated support to the ceremony. The 5th Combat Engineer Regiment (a Reserve unit of the Royal Australian Engineers) provided a Catafalque Party, and the RMC Band provided a bugler (Lance Corporal Luke Glasoom) for the playing of the Last Post and Reveille, or 'Rouse'.
Our photo (courtesy Bob Richardson) shows the mounting of the Catafalque Party. Hall elder, Jim Rochford, is on the front row to the right. The army truck in the background is a restoration carried out by Andy Fulton and Malcolm McLeod.
---