Canberra Centenary Trail consultation
6 November 2011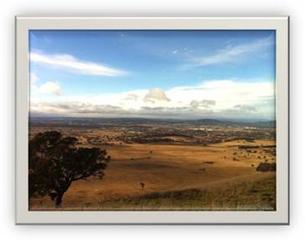 Community members will be aware of the plan for an extensive walk /bike trail around the ACT to celebrate the ACT Centenary. Work has continued on refining the final alignment, including the way northwards out of Hall
Comment is now invited on the proposed alignment of the Trail as documented in the Centenary Trail Ground Truthing Final Report (Anthony Burton and Associates, August 2011). Information on the proposed trail alignment is available here.
Please send your comments on the proposal to or by post to:
TAMS Centenary Trail
GPO Box 158
Canberra ACT 2601
Responses should be sent by close of business on Friday 16 December 2011. If you require more time to submit your response, or would like to arrange for a presentation about the trail, please send a request to the project team via this email or telephone 6207 3703.
Our photo shows One Tree Hill,Hall, Canberra Centenary Trail.
Photograph from Centenary Trail Ground Truthing Final Report (Anthony Burton and Associates, August 2011)
---