School Museum Up-date - Who are they?
29 October 2011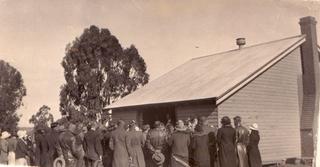 At the School Museum, the volunteer conservation group are continuing their great work in assessing, cleaning and cataloging the collection.
The Hall Mens' Shed have repaired and weather-proofed the old storeroom attached to the School Museum to enable the safe storage of fragile books and other historic material.
During the cleaning and assessment process a number of interesting objects and photos have surfaced including the photo below. The photo appears to have been taken about the 1940's and shows the attaching of a floral tribute to the school wall. There is a distinguished-looking figure standing in the doorway of the school.
If anyone can identify the event or any of the people in this photo please let Phil Robson know on 62595221 or email
As the conservation volunteers uncover other interesting items we may be frequently asking "What is it?" or "Who is it?". Your help in solving these 'Mysteries of the Museum' is greatly appreciated by all.
Dont forget the Museum is open on Market Day 6th November 12 noon to 3pm.
---