Minister Burch comes to town
15 September 2011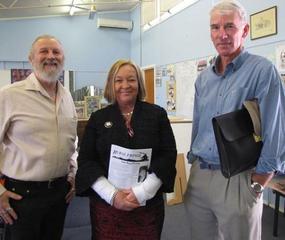 Joy Burch MLA visited Hall today for discussions about the future of the Hall school site. She met with representatives of the Preschool Parents Association, Hall Mens Shed, Hall School Museum, and the Progress Association. Joy Burch is Minister for Disability Housing and Community Services, and her department (DHCS) now 'owns' the school site.
The government has a draft 'master plan' report on the site from Eric Martin and Associates, setting out a range of opportunities and constraints.
The Association is very keen to secure the future of Hall preschool provision, and supports the proposal that the Preschool be relocated to one of the two 'permanent' buildings, suitably refurbished.
We are also keen to secure some additional space as an adjunct to the Museum, for conservation work, collection storage, exhibitions, and training.
We are advised that there has been no applications from non-governmental organisations to establish a school on the site, which would have been strongly supported.
A tour of the school site was followed by afternoon tea at the Cottage.
Our photo (courtesy of Bob Richardson) shows Phil Robson (Museum Curator), Joy Burch, and Alastair Crombie (President VHDPA).
---