Learn karate in Hall
8 September 2011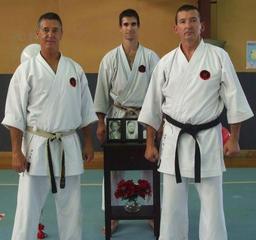 For those interested in learning a traditional martial art and keeping fit, there will be a demonstration of Goju Ryu karate at the Hall Pavilion on Saturday, 15 October at 10.00am.
Students from 6 years up to adults will demonstrate the basics and more advanced self-defence techniques of this traditional Okinawan martial art with information available for parents and prospective students.
Weekly classes are planned to commence at the Hall Pavilion on Tuesday, 18 October at 5.00pm.
The International Okinawan Goju-Ryu Karatedo Federation has over 200 members in Australia with 3 dojos (training facilities) in Canberra and over 20,000 students internationally. Training is open to men and women, girls and boys from 5 years of age.
Goju Ryu teaches practical self-defence techniques, values fitness and promotes loyalty and respect both inside and outside the dojo.
Hall resident John (Sam) Steggall has over 25 years training in Goju karate and was recently graded to 4th Dan black belt. Sam has been running the Woden dojo since 2008 with 12 students ranging from 6 years through to adult.
For more information contact Sam on 0430 153 375 or or visit the website: iogkfoz.com
---