Melba Mens Memorial walk
24 July 2011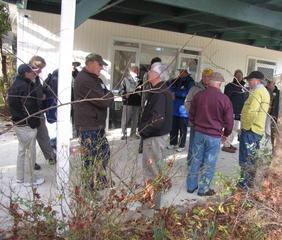 The Cottage was overflowing with Blokes (and a few
Sheilas) on Thursday. Nearly 30 members, and some partners, from the Melba Shed chose our round Hall bush track as a memorial walk for one of their members, Peter Davis. His widow was amongst the walkers.
Setting off from the Cottage at 9.30 am the breakaway group got back around 10.30, with the rest following close behind. After enjoying tea, biscuits and cakes with Hall Mens Shed members, quite a large group then visited the Hall School Museum - including one or two with ties to the district. A nephew of Jim Rochford's for example.
Earlier, the Hall group has had a visit from the Gungahlin Mens Shed group. They all remark on the great facilities that we have here.
The Hall Mens Shed group gathers every Thursday morning from 10.30 am on a 'drop in' basis. All welcome. There are already some projects to get involved in for those interested, and more are anticipated.
If you are interested, ring or email , the Coordinator on 0429 828 855 - or just roll up one Thursday.
---