Bus interchange traffic calming
20 July 2011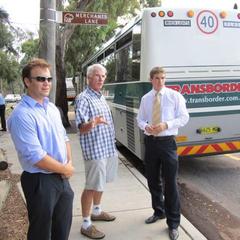 The Progress Association has just been advised that
Roads ACT is ready to implement the proposal discussed last year with the Hall Community and Transborder Buslines. Ginninderra MLA Alistair Coe initiated this meeting for us.
A number of anxious parents had approached the Association concerning road safety along Gladstone Street during the morning and afternoon movement of school buses.
The plan includes the introduction of refuge island and kerb blister at the intersection of Gladstone and Victoria Street, and speed cushions on the road in Gladstone street. A plan showing the proposal can be downloaded from this site [listed under the 'ACT Government' documents heading].
The proposal took into consideration the community concerns regarding vehicle speeding and safe movement for pedestrians at the interchange. It also addresses the turning movement of large vehicles accessing the intersection.
We are requested to provide feedback by end of 15 August 2011. Greg Palethorpe is coordinating our response. If you have any questions or comments you can contact him on 0402 840 834 or by email at
---