Hall Cemetery
13 July 2011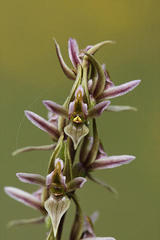 The ACT Public Cemeteries Authority is asking some Hall residents who hold burial rights to plots in the local cemetery to consider transferring their rights to another plot to help save a rare orchid.
Hall cemetery, the oldest operational cemetery in the ACT, is unique in a number of ways. For example it is a remnant of the original woodland, contains the graves of early pioneers to the district and is the home of rare plant species and communities. In particular it is the home of a rare tiny orchid, Prasophyllum petilum or Tarengo Leek Orchid.
Because so little is known about the ecology of the orchid the only practical way to ensure that it continues to grow is to remove, as far as possible, anything that has the potential to cause it damage. This means limiting burial activity that results in destruction of habitat for the orchid.
A report by scientists at the ACT Government Environmental Research and Planning unit recommended that the cemetery be closed for the sale of new allotments. It also found that a number of orchids grow in empty reserved allotments and suggested that those families who had an unused allotment containing an orchid be asked to move to an alternative site.
The Cemetery Authority has also been advised that burial activities that damage orchids or their habitat could amount to a serious breach of the Commonwealth Environment Protection and Biodiversity Act 1999. The Authority has started a process under this Act to determine if some of these activities can continue with appropriate conditions, but this is a long process and may not be successful.
In the meantime the need to provide an environment which allows the rare and threatened plants and community to thrive, together with an increase in demand for burial spaces in Hall Cemetery, has been a problem for the Canberra Cemeteries Authority. For some years now the Authority has been working to a management plan which sets out a timetable for various season activities, such as mowing, and this plan has served to maintain a stable environment for the plant community.
The Authority is also seeking to expand the cemetery into an adjacent block and has obtained a change to the Territory Plan that will allow this. An environmental survey is to be conducted over the next few months to ensure that any special values remaining in the proposed extension are maintained.
The Authority welcomes any comment from the community regarding the future of Hall cemetery and such comments should be addressed to:
Diane Kargas AM
Board Chair
ACT Public Cemeteries Authority
PO Box 37
Mitchell ACT 2911
---