Help wanted - Red Shield Appeal
14 May 2011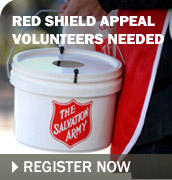 The 'Salvos' seek the Hall community's help with the annual Red Shield Appeal Door-knock on the 28th and 29th May this year.
Local Chairman of the Appeal Stephen Lucas-Smith says that help is sought in particular:–
Endorsing and advocating on our behalf to affiliate clubs, teams and groups in the area who could help us with the collections.
If it helps we could organise a staging point within Hall for volunteer collectors. This could be another opportunity for Hall to use this event to connect with a range of community members they might not otherwise meet.
All training and equipping is provided by the Salvation Army before anyone leaves for a collection area.
If they were to leave from the Salvation Army Temple, at 7/160 Lysaght Street, Mitchell, each person would normally receive a certificate, refreshments and a Mac Donald's voucher when they return.
We would be grateful for as little or as much time as people could give on either Saturday between 9:00am and 4:00pm or Sunday between 9:00am and 5:00pm to collect donations in the area.
The Salvation Army provides a range of services useful to the broadest cross-section of Canberra and South NSW's diverse communities. For example –
Canberra Rehabilitation Services is a residential rehabilitation facility that enables people to get free from the addictions and compulsive behaviours that steal the quality of life they would otherwise enjoy, through a 12 step program.
Oasis Youth services provides help for youth with drug and or alcohol issues.
Dickson Community Services centre assists people with a range of issues from the paying of bills to financial counselling.
We also have a non-residential counselling service for people with issues ranging from domestic violence, to help with relationships and to other life or personal matters.
Captain Dale Brooks, Commanding Officer of Northside Salvation Army, and I, would be most greatful for any support and assistance the Hall Community are able to muster.
Stephen Lucas-Smith
Chairman, Salvation Army Northside, Red Shield Appeal 2011
If you able to help in any way please contact Stephen at:
or 6242 6037
---