Fine music fills the air
21 March 2011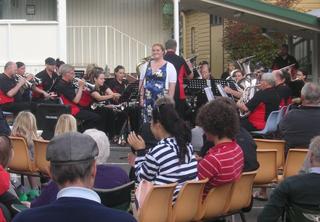 The school grounds echoed to the sounds of 'My fair lady', 'Lambeth walk' and the 'Punchinello March' at the Third Annual Twilight Concert by the Hall Village Brass Band. A very appreciative crowd ignored the cloudy, windy weather to enjoy a great program by the Band and soloist Bronwyn Douglass.
The Concert was once again generously sponsored by Barnett Lilley and Associates; many thanks to Stephen and Scott, their staff, and their families for all their contributions (their youngsters again sold the raffle tickets and took up the collection). The raffle prize was a case of Pankhurst Wines 2006 Sauvignon Blanc Semillion - one of many fine wines produced by Allan and Christine Pankhurst from their winery down the Wallaroo Road. Many thanks Allan for this generous contribution.
Thanks also to Hugh Watson (of 'West Texas Crude' fame) for again doing a fine job with supplying and managing the PA system.
The Band delivered their usual high quality and varied program, including a number of items under preparation for the the Australian National Band Championships being held in Adelaide over Easter. Notable amongst these was two movements from 'Suite Gothique', a set piece for the Championships, and their chosen March - 'Punchinello'. We also heard the 'Lambeth Walk' medley, and Irving Berlin's 'Let's face the music'.
As well as her popular opening numbers from My Fair Lady - 'I could have danced all night' and 'All I want is a home somewhere' - Bronwyn Douglass gave us the 'Nuns Chorus' from Casanova (Johann Strauss), and Ivan Novello's 'We'll gather lilacs'. She joined the Band again for the final number, a super rendition of the song commissioned for the closing ceremony of the Barcelona Olympic Games - 'Time to say goodbye'.
If you want to hear the Band again soon, they will be performing at Binalong Hall (just go to Binalong and ask!) at 4.30 pm next Sunday, 27th March, and at 3.00 pm on Sunday 10th April at the Ainslie Arts Centre in Braddon; this will be an 'open rehearsal' of their Championships program, and more.
The audience showed their appreciation by contributing generously to the raffle and gold coin donation, which together raised $855, and by patronising the Hall Preschool 'sausage sizzle'. Raffle and collection proceeds will be shared between the Band and the Hall School Museum.
On behalf of the Hall and district community we wish to the Band all the very best for the National Championships in Adelaide!
---