Lanes named
17 January 2011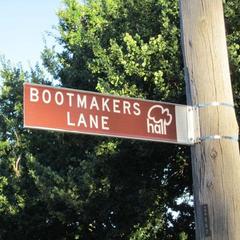 The 'back lanes' which have been a feature of the village since it was proclaimed in 1882 have at last been given names.
At the suggestion of Shaun O'Connor, a small group established by the Progress Association identified names for all eight lanes. Their recommendations were forwarded to ACTPLA, and have since been officially gazetted.
Each of the names relates to an aspect or Hall's past, and the naming recommendations were accompanied by a set of historical notes that explain the origins of the names.
'Bootmakers Lane' for example (featured in our photograph), "acknowledges all family heritage, the passing of knowledge, skills, attitudes and values from one generation to the next".
On the eastern side of Victoria Street, adjoining this lane, Mr William Morris built his bootmaker's shop in about 1906. Leon Smith, in 'Memories of Hall' (p.12) says "...as for material, make and fit, the 'Morris boots' were practically unequalled, both for wear and water resistance." Billy Morris had his own tanning pit on his property, 'Dellwood', a short distance to the north of the village, where he produced the leather. He continued bootmaking until just before his death in 1941.
In his shop Billy was also the banker, barber and bicycle mender. He was a renowned violinist and would ride his bicycle to and from Queanbeyan and throughout the district to play for dances.
Billy's father, Henry Morris, arrived in Sydney as a twenty year old convict in 1833. His occupation was listed as "shoemaker (good)". In the early 1860's Henry and his wife Hannah travelled by bullock dray from Camden to establish a tannery and bootmaking business in Ginninderra.
Henry's son William (Billy) learned the trade from his parents and taught his sons Harry and Carl. During the early development of Canberra Harry regularly collected footwear for repair at construction sites and returned them on completion, offering eggs for sale at the same time. He worked with his father in the Hall business while Carl began his business in Queanbeyan.
Harry's son Rex was taught the trade and operated a business in Civic. So the bootmaking trade passed to four generations.
Similar stories are attached to all the other Lane names. We are especially pleased that Roads ACT agreed to add the Hall village logo to the signs.
[UPDATE - some of the signs were placed in the wrong position. According to an ACT Roads spokesperson, this will be rectified]
---