St Francis Xavier's Centenary
11 April 2010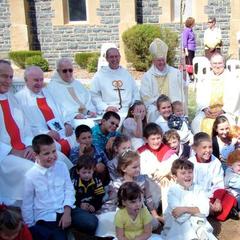 In 1910 the picturesque hillside of St Francis Xavier in Hall was crowded with families as the new church was officially blessed and opened. The church has therefore been an important part of the Hall and district community for a hundred years, and is believed to be the oldest continually used catholic church in the ACT.
One hundred years on, Archbishop Mark Coleridge, the Archbishop of Canberra and Goulburn, was the principal celebrant at the crowded Centenary service, with priests from across the archdiocese, and representatives from other local churches also invited to concelebrate. In the 'Procession of the Gifts' Jemma Pilloni and Sophie Howlett carried wool and wheat as symbols of history, while altar boys James Magnussen, William Pilloni and Thomas Southwell wore traditional garments.
An estimated two hundred were in attendance. Sadly, Jim Rochford (96), who was christened at the church and has been a lifelong member, was not among them, due to poor health. Jim is the author of a short history of the catholic churches at Ginninderra and Hall. Visitors from around the district included Len Coulton from Coonabarrabran, John and Joyce Cavanagh from Young, and Peter and Valmai Hibberson.
A fine sandwich lunch was served in the newly refurbished Hall pavilion after the service.
St Francis Xavier was originally part of Holy Rosary parish, Watson. In 2007 it became part of St Monica's parish, Evatt.
One of the pictures in our photo gallery (thanks to Dennis de Marco) shows Archbishop Mark Coleridge and Parish priest Rev Warrick Tonkin departing the pavilion for the church in a magnificent horse drawn carriage driven by Shane Kier. Shane made a special trip from Sydney and back where he will be part of the Royal Easter Show grand parade.
Apparently it was customary for a visiting Bishop to be met by carriage or trap a mile or so out of town and be escorted to the church by riders on horseback.
Our warm congratulations to all those who have worked hard to mark this major milestone - for the church, and for the local community.
Readers are reminded that next year - April 2011 - there will be a special celebration to mark the Centenary of Hall public school
---